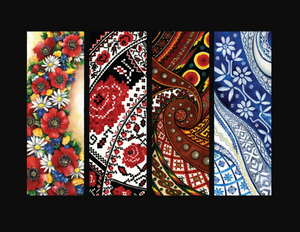 "The Four Seasons" was created especially for the 50th anniversary of the Pavlychenko Folklorique Ensemble.
Each section was inspired by the magnificent Ukrainian dance costuming of PFE
and reflects the colours and motifs of the four seasons – spring, summer, autumn, and winter.
"Spring"

 

features a spray of poppies, bachelor buttons, and daisies. It was inspired by the vinok of flowers worn when dancing the Hopak.
"Summer"

 

draws inspiration from the blouse embroidery of Central Ukraine. These motifs can be found on the many blouses worn by PFE over the last 50 years.
"Autumn"

 

features the colours and motifs of western Ukraine. It was inspired by the embroidery and motifs that adorn the Hutzul costumes of PFE.
"Winter"

 

captures the season with a variety blues and white-on-white embroidered motifs that adorn the winter theme costumes worn by PFE.
This reproductions is printed on acid free watercolour paper and is signed and numbered by the artist.
Edition Size: 50
Image Size: 17″h  x 22″w