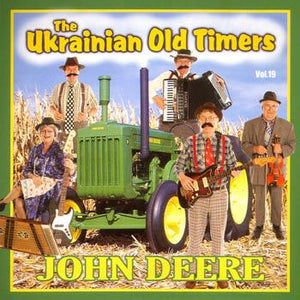 John Deere Polka - Ukrainian Oldtimers
John Deere Music
The "John Deere Spirit" is here to stay. Many of you grew up on a farm that had a John Deere Tractor, or perhaps your neighborhood had one. For all of you , the nostaligic name "John Deere" will live on forever, as will the "Ukrainian Oldtimers".
Imagine pulling on the flywheel and hearing the hissing sound created by the two pistons, and then another pull and "WOW" - the machine comes to life. Puk A Puk Puk a loud distictive sound that scares the birds off the trees, sends the chickens running, and gets the attention of every living creature in the barn yard.
The Ukrainian Old timers were part of this great era. They too hiss, sputter and produce their own discitive sounds. When they get playin' in unison watch out you can feel the energy flow like they just got belted up to the flywheel ! The Ukrainian Oldtimers are like those old John Deere tractors : they are reliable, make a lot of noise, and power up some of the best in Ukrainian Music.
In this recording, you will hear the ever popular John deere polka, and the newly written John Deere song. Along with dirt kickin selections that will get you into a party mood.