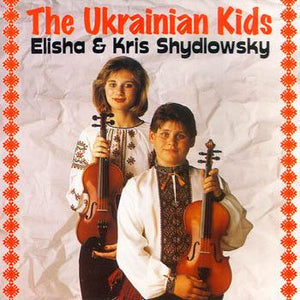 01. Violin Polka
02. Sycamore Tree/Arkan
03. Chornee Ochke
04. Pioneer
05. Rocking Boat Waltz
06. Oie Peed Hi – Am
07. Ukrainian Wedding March
08. Wedding Presentation
09. Seven Step
10. Bandura Waltz
11. Juba
12. Ukraina
Today a growing number of Ukrainian Canadians are becoming aware of their musical heritage. Writers, singers, and musicians are exploring their musical "roots" and others are creating new music influenced by modern ideas and sounds but still "Ukrainian" at heart.
The "Ukrainian Kids", Elisha and Kris Shydlowsky have created a pleasant collection of Ukrainian tunes which will appeal to both young and old.
Kris Shydlowsky – Violin & Mandolin
Elisha Shydlowsky – Violin
Danny Schur – Drums & Keyboard
Linda Shydlowsky – Bass Guitar
Steve Myk – Acoustic Guitar
Nester Shydlowsky – Accordion