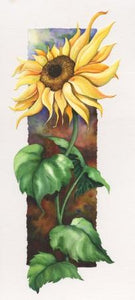 Sunflowers are reminiscent of sunny, late summer afternoons spent in my Baba's Garden. They are a simple flower, growing from a seed, rising from the earth, producing nutritious seeds, oils, breads and healing remedies.
Modern day uses include the growing of sunflowers near Chernobyl to extract radioactive contaminants from ponds following the catastrophic nuclear reactor accident.
Sunflowers now carry a new meaning. They have been adopted by the United Nations as the symbol of a world free of nuclear weapons. This came about in June of 1996 following the celebration of Ukraine achieving the status of a nuclear free state.
"Sunflowers instead of missiles in the soil will ensure Peace for future generations."
Large
Image Size: 18 1/2″ H x 7″ W
Edition size: 500