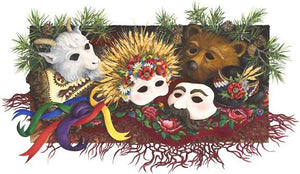 Malanka is a celebration of the coming of the new year. Traditionally it is celebrated on January 13th, which is New Year's Eve on the Julian calendar. "Mummers" or spirited actors and carollers dress up in costumes and masks. They herald in the new year by playing pranks and acting out small plays.
"Malanka" the painting depicts a collage of masks and costumes. The beautiful Malanka, the handsome Vasyl, the bear and the goat are for of the most commonly depicted characters.
The symbolism of wheat during the Christmas season is reflected in Malanka's vinok and the brim of Vasyl's hat. the entire image reminds us of our ancestors and our cultural roots.
Image Size: 11″ x 22″
Edition Size: 500