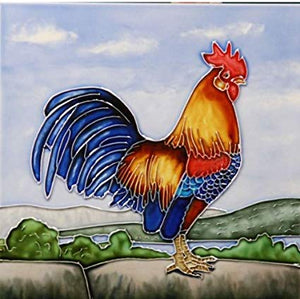 A vibrant wall plaque of a cockerel on a background of green and blue hues.

This piece measures 20 cm wide x 20 cm high approximately (8" wide x 8" high approximately) and is felt backed.

It has a hook for wall hanging and a stand if you would prefer to display this as an ornament.

Each piece is hand-crafted by specially trained artists. The pieces are painted by hand and fired at 1,000 degrees celsius for 22 hours.